Top Tips for Onboarding Remotely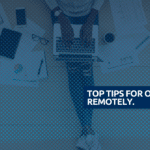 It's a worrying time for everyone at the moment; the growth of the outbreak is more terrifying than (i think) any of us expected and it's affecting the majority of businesses in many different ways.
BUT, not every company can afford to completely halt their hiring plans. In these uncertain times, certain roles are essential to sustaining and growing a business and, for some industries, hiring is essential right now.
Onboarding a new employee is important for any business and in normal circumstances a priority would be placed on ensuring the first impressions of a working environment are high, and all the required information can be delivered to a new employee through a series of face to face meetings. But, unfortuntely, that isn't possible for the vast majority of businesses at present.
If you're continuing with hiring plans right now, here are 10 tips to consider when you're building your remote onboarding process.
1. Ensure your new remote employee can easily complete his/her HR paperwork:
Do you have an e-signature tool in place? Completing contracts and other paperwork can be frustrating and time consuming if they need to be printed, signed, scanned and returned.
E-signature tools such as HelloSign or DocuSign, are easily to use and cost effective. Employees can add their signatures digitally and share contracts with you in a secure environment.
2. Ensure your new remote worker has the hardware and instructions they need to get started.
Do you have a complete checklist of everything a remote new starter needs to get started?
You must ensure that all hardware is ordered well ahead of their start date and that your remote worker has received everything in time.
Make sure that your IT department has introduced themselves to offer any needed assistance.
You should ensure that all remote workers are familiar with:
•  Computer security procedures.
•  File-sharing applications/folders and any cloud backup software that is used in your business (like Google Drive,Dropbox etc).
•  Password management and data encryption tools to protect their devices.
3. Does your remote worker understand how to communicate to your business?
Provide clear instructions on how to contact team members and troubleshoot communication technology. Provide clear instructions on how to access/set up:
•  Company email
•  Group messaging tools
•  Video conference software
•  Webphone application
4. Create a remote worker starter kit.
Help your new hires feel part of the team by sending them a personalised starter kit. This will go a long way in making them feel welcome. You could include:
•  Branded merchandise; water/gym bottles are always well received.
•  A welcome letter or note from their team/manager/CEO.
•  What do you know about your new starter? You could you include a thoughtful gift such a gift voucher to an online store.
5. Ensure your remote worker feels part of the business – from day one.
Even though they're not going to be in the office, remote employees play a part in your team culture. Here are some ways that you can help them feel part of the business from day one:
•  Video content is a great way to give a remote worker a feel for their colleagues. You can use free tools such Loom to create short
videos of team members talking about their role in the company, hobbies etc.
•  Do you have any footage of recent gatherings or company meetings?
•  Do you have copies of any presentations delivered by the leaders of your business?
•  Do you have any literature on your company values?
6. Arrange a face-to-face meeting (as soon as it is safe to do so).
The below tip isn't relevant in the current climate, but could  be considered if you continue to remotely onboard staff, once everything is back to normal.
Is your remote worker based near your office?
If so, consider having them work from your offices during their first week.
If they're not based locally, try to invite them on-site as soon as possible, so that can meet their team members in-person.
If you have a large number of remote workers, try to schedule quarterly or annual events to give everyone the chance to meet.
7. Prompt hiring managers to set clear goals and expectation from the outset.
It's difficult for remote workers to work effectively if they have to wait for their manager to call or email to learn what their next steps are.
Make sure hiring managers:
•  Develop and share a task/project calendar after new hires' training and onboarding sessions.
•  Define short-term and long-term goals and objectives.
•  Schedule regular one-on-one catchups to discuss upcoming projects, progress and to resolve any potential issues.
•  Share the overall projects of the team and give regular project status updates.
8. During week one: Set up virtual meetings with team members and other key employees.
These meetings could be one-on-one and/or group calls. During their first days, remote employees should meet with:
•  Their team members.
•  Their manager and direct reports
•  Relevant employees from other departments
9. During month one: Arrange all necessary training.
It can be challenging to train remote employees but with a wide range of online communication tools at our fingertips, it's easier now than it ever has been.
Any delays to training your new remote worker may leave them feeling demotivated and undervalued.
Ensure that the trainer follows up each session to answer any potential questions.
COMMUNICATION IS KEY! COMMUNICATE REGULARLY WITH YOUR REMOTE WORKER
You need to know if they're facing any difficulties and whether they've settled into their new role, so you can react accordingly.