Exploring Deloitte's Cloud Engineering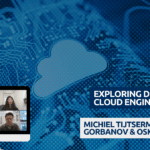 Transcript
Session One:
From idea to MLP; the fun and challenges of building a cloud-based client portal from scratch
Michiel Tijsterman
Manager Cloud Strategy & Architecture at Deloitte
Our client is a typical industrial firm. It has its origin in processing (sheet) metal making all kinds of products & parts for their clients.
During the course of time it focused on other areas of industries as well, amongst other the car industry, plastic industry and high tech industry.
The client has always organized it's IT decentral with a shattered IT landscape as a result.
Together with the client we're now centralizing the organization of IT, modernizing it to make it future proof.
Deloitte's role is to first show how things are done, next step is to jointly design & develop, where the last step is to let the client execute the agile IT development life cycle themselves.
We're doing this transformation by means of executing different digital transformation projects from start till end.
One of these projects is setting up a custom built Configure Price Quote Portal. Main technologies used here are Mendix, Azure & Mulesoft.
We consider this project as one of our lighthouse cloud projects because the project contains everything: starting with a design sprint where we've put a customer journey on paper, to setting up a team of designers & developers, building a standalone MVP and continuing towards a fully integrated MLP (minimum lovable product)
In my presentation I'll share my experience about how we started such a project, what the main challenges are, and where we're standing right now.
Session Two:
Building a cloud-native Sportsbook and Casino
Ivan Gorbanov
IoT and Cloud Engineer at Deloitte
Join me for this session to hear about time the Deloitte Cloud Engineering team designed and built a new portal and casino for the Dutch lottery (Nederlandse Loterij), what made that project cool, some of the challenges and how we complied with all the government regulations while still making a fun product for the lottery's customers.
Session Three:
Building EPIC digital platforms
Oskar uit de Bos
Senior Applications Specialist at Deloitte
A short summary of the session: While launching digital propositions has never been easier, a lot of times companies get it wrong. In this session I will share my experience on what it takes to get it right, bringing together the people, the technologies and cloud to build EPIC digital platforms. I am an engineer, so expect technology to be front-and-center and to get a good idea of what it's like to be an engineer on one of our teams, solving the most complex client challenges.