Building a Leading Data Science Team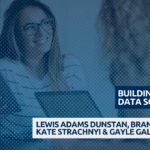 **LINKS TO THIS EPISODE OF THE RECDOTECH PODCAST**
LISTEN ON SPOTIFY: https://open.spotify.com/episode/1COAyr05QZtNj69XkMAEhZ
LISTEN ON APPLE PODCASTS: https://podcasts.apple.com/us/podcast/mothers-in-tech-gayle-amazon-brandee-appetize-kate/id1529453970?i=1000493102628
LISTEN ON GOOGLE PODCASTS: http://bit.ly/3jiHxNn
REC DO TECH PODCAST – EPISODE 6
**SPECIAL EPISODE – MOTHERS IN TECH**
"It's the biggest project management job ever.
You're juggling a lot of balls at once; some are plastic, some are glass.
You just need to make sure you catch the glass ones."
In this week's special episode, we're talking to Brandee Sanders – Senior Director Marketing Operations @Appetize, Kate Strachnyi Founder DATAcated Academy, and Gayle Gallagher – Snr Manager- Marketing- EU Special Projects Amazon.
These inspirational ladies chat with Darwin's Lewis Adams-Dunstan about how they balance being a mother with being a Senior Woman in Tech.
#Technology